Practitioners First
Since there are many academic communities for activity theorists and practice theory scholars, the Activity Analysis site is designed for practitioners first. While we will offer some background knowledge about theoretical concepts, the major focus of Activity Analysis is empirical research and case studies.
We encourage readers to adopt theoretical concepts and frameworks to guide their research projects and reflect on their daily life activities.
There are two types of practice domains: horizontal domains and vertical domains.
Horizontal domains refer to general functions in society such as "organization, strategy, and innovation".
Vertical domains refer to specific industries, for example, farms (agriculture), buses (transportation), and movies (entertainment).
We will focus on horizontal domains and expand to vertical domains. Inspired by the naming approach of Academy of Management's Divisions and Interest Groups (DIGs), we set six Learning Interest Groups (LIGs) to represent horizontal domains about knowledge works.
This is your community. You are welcome to find or create your learning interest group.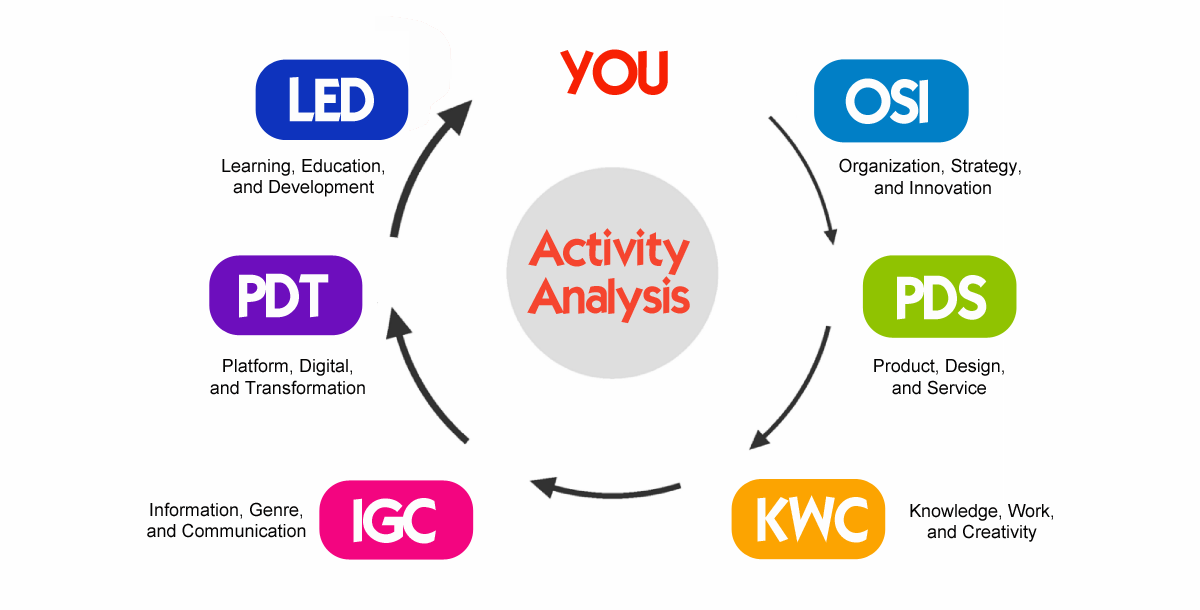 Case Study and Self-reflection
Though we offer ideas and tools for understanding human activity and social practices, we encourage you to adopt these ideas and tools to improve your work, your life, and your communities.
The best way of adopting theoretical concepts and knowledge frameworks for real lifeworld is to conduct empirical research. There are many ways of doing empirical research. If you are not familiar with methods of academic research, you can start with simple case studies one by one.  
You can also see your own life experience as data for empirical research. In this manner, you can adopt the self-reflection approach to conduct case studies.
The most essential thing behind empirical research is finding new insights in order to improve our understanding of the world and design new actions to change the status quo.
Stay curious, and be patient, this is a long journey for your epistemic development.
Modeling Social Practices
In August 2022, we started working on a new program called Modeling Social Practices that aims to encourage you to run a Developmental Project for creating new knowledge about social practices. See the diagram below.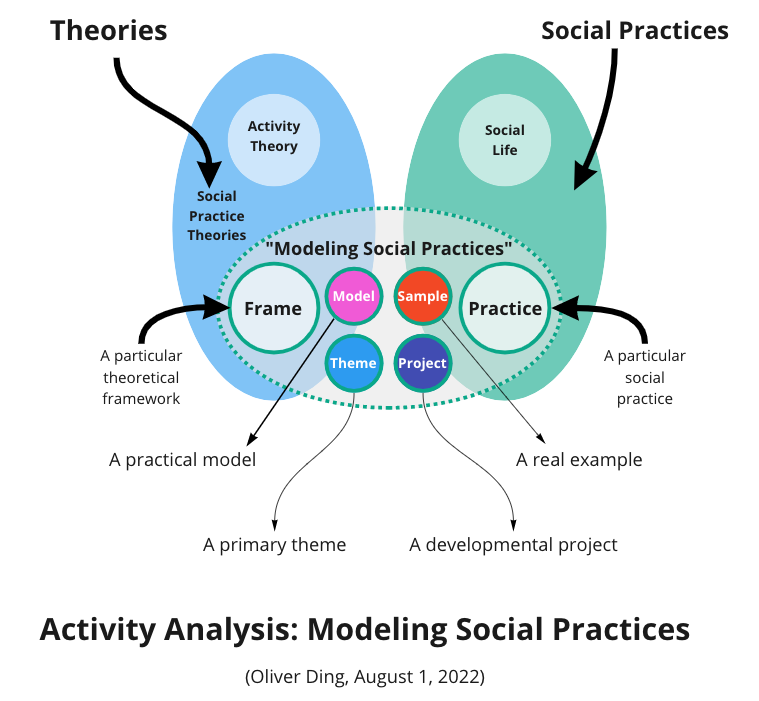 The "Modeling Social Practices" program is developed with a mission of connecting THEORY and PRACTICE. The above diagram is based on a meta-diagram called WXMY. See it below.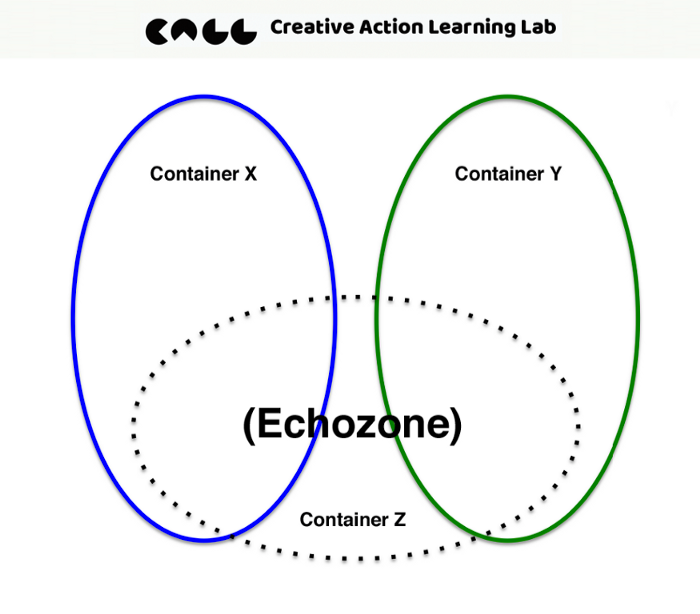 The WXMY meta-diagram uses Container Z to connect Container X and Container Y. Container Z is also named Echozone because I name the approach the ECHO Way for knowledge curation and boundary innovation.
The concept of Container is the core of the Ecological Practice approach. By adjusting the quality and quantity of the Container, we can create advanced frameworks for discussing complex phenomena. The quality of the Container can be potential and actual, and the quantity of the Container can be one or two. If we develop a new framework with one potential container and two actual containers, the outcome is the above diagram.
I named the potential container (Container Z) as Echozone which refers to a creative space containing echoes between Container X and Container Y. The term "Echo" of "Echozone" refers to a dialogue between two containers.
Now let's apply it to connect Theories and Social Practices.
For the Theories side, I consider Activity Theory and other theories. Since 2001, a group of philosophers, sociologists, and scientists have rediscovered the practice perspective and used it as a lens to explore and examine the role of practices in human activity.
You can find more details in Theory.
For the Social Practices side, I consider Social Life in general. It refers to Human Activities and Social Practices too. For example, family, work, education, business, design, public service, etc.
A Developmental Project
The third container (Container Z / Echozone) is a creative space for connecting Theories and Social Practices. It's called "Modeling Social Practices".
The "Modeling Social Practices" Container is considered a Developmental Project for participants.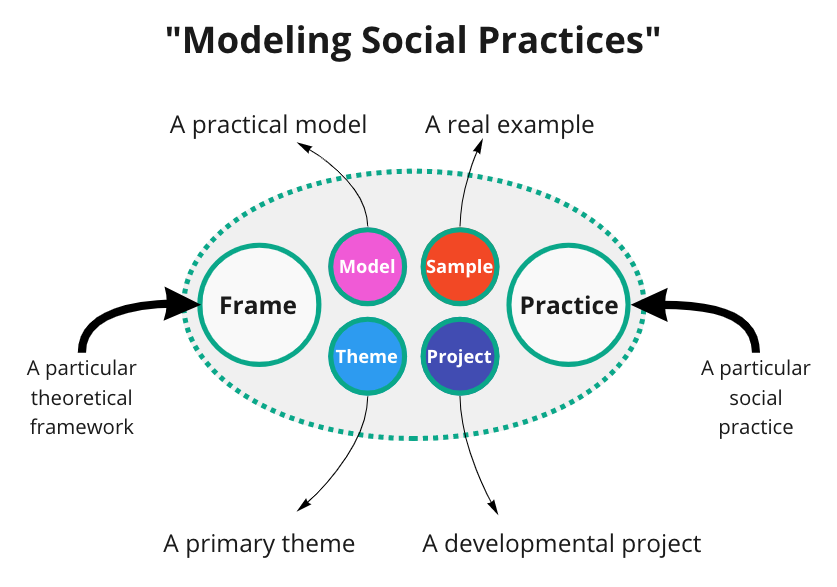 Each participant runs a Developmental Project which aims to develop a model for a particular social practice. For example, an adult learning program's founder can develop a model for Life Discovery Activity. In Jan 2022, I developed the model below for a friend who is working on an online life development program.
While a "Modeling Social Practices" project is a Developmental Project, it also highlights the following special aspects:
Practice: A particular social practice. For example, Life Discovery Activity.
Sample: A real example. For example, my friend's online adult development program.
Model: A practical model. For example, the above Sailor's Mandala diagram.
Theme: A primary theme. For example, "Life Discovery" is a significant theme of the online adult development program.
Frame: A particular theoretical framework. For example, the Hubhood diagram is a framework behind the above Sailor's Mandala.
Project: A developmental project. The person should consider the process of "Modeling Social Practices" as a project for developing his or her mind and cognitive skills.
The outcome of a "Modeling Social Practices" project focuses on 1) personal learning and development, and 2) a new model for understanding a particular social practice.
Knowing-for-Me and Knowing-for-US
The new model can be used for personal learning, team reflection, or professional discussions within a knowledge community.
If you run the "Modeling Social Practices" project and the outcome is only for your personal learning and creations, then the return of the project is Knowing-for-Me.
If you run the "Modeling Social Practices" project with others for a team, and the outcome is for the team, then the return of the project is Knowing-for-US.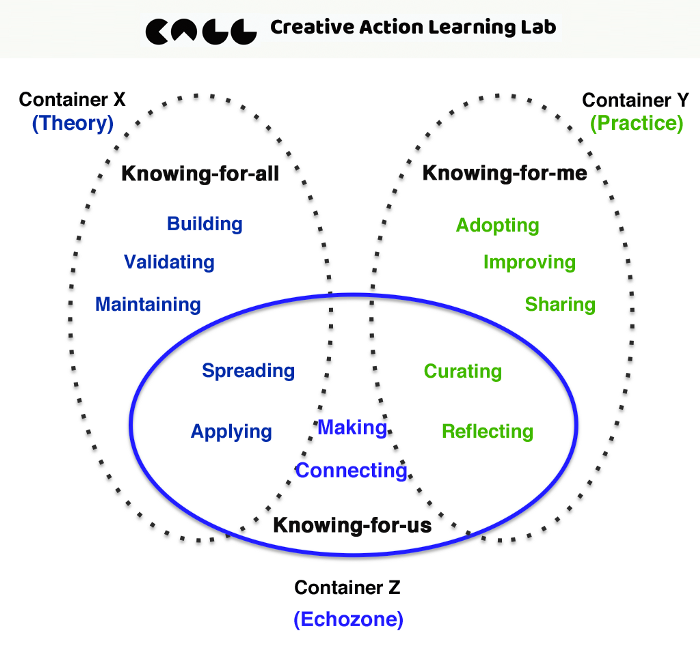 You can modify the model several times. If the model is pretty innovative, you can use it for formal work such as an academic paper, an educational program, etc. Since it refers to contributing to the development of public knowledge, it is about Knowing-for-All.